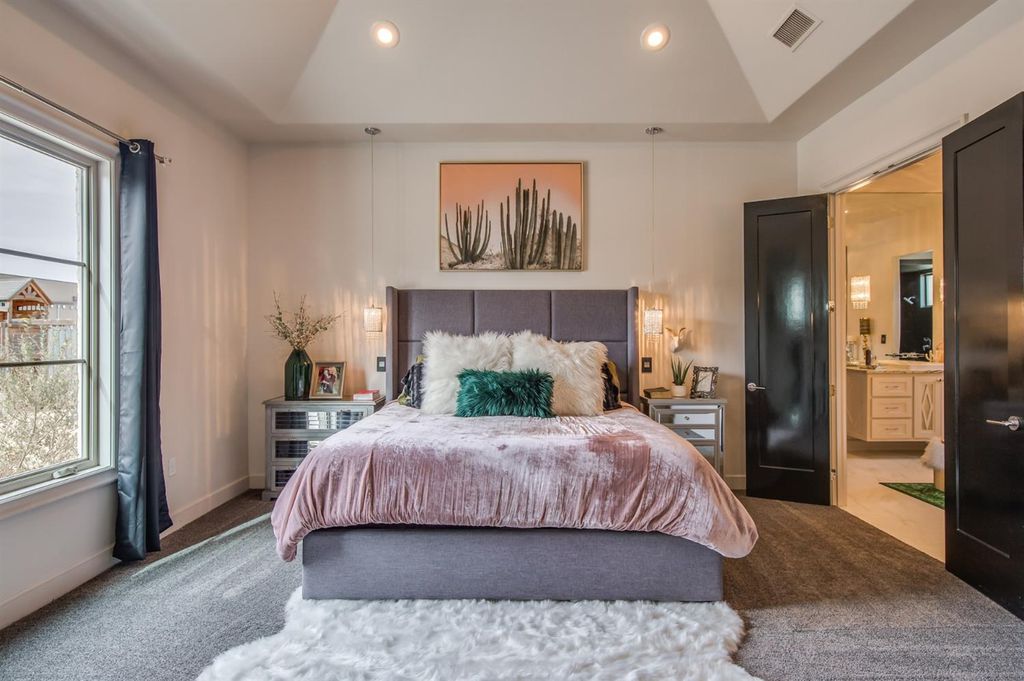 Our house has been on and off the market for the last three years. We built our home in 2014. We had worked so hard to make this dream become a reality. We spoke it into existence everywhere we went. 
I'll spare you all the details but, needless to say, as soon as we moved in Ricky (notice I didn't say WE) was ready to move out. 
I believe God knows each of us, oh so well. I have that personality type where I need to touch, feel, and experience something before I can learn if it is or isn't for me. I mean you gotta go through it, to grow through it. Or at least I do. I imagine I could spare myself so much heartache if I would just pray fervently before ever doing ANYTHING. But, sadly I don't. I usually just dive right in. 
After a few months God really exposed somethings rooted in my heart and He aligned my heart with His and Rickys. After much wrestling I knew it was time to sell our home. 
I believe the last three years we have been on this "selling journey" God has refined many areas in our hearts. He has exposed things that we needed to cleanse before we could move on. We have learned what is important, and what is not. There's a whole testimony to this whole story but, I don't feel He is done writing it just yet. So, I promise to revisit this with you someday when I can fully understand the depths of what we have walked through these last couple of years.
This time putting our house back on the market I wanted to really "stage" the Master Bedroom. I wanted it to feel like a real suite. I mean the kitchen, living and master bedroom/suite are the main focus areas of any home buyer. Before this past year I had focused so much on getting all of the kids rooms and main living rooms how I wanted them, that I neglected to set up our room as I would have liked. So, with re-listing the house, this seemed like the perfect time to do so. I wanted something to speak to the wife but, to also still provide the husband a comfortable space. When I told Ricky I was looking at blush bedding, he about died. I had originally just planned to incorporate the grey tones, white and black with it. But, when we added the cactus canvas above the bed I loved the thought of bringing in GREEN tones too! I think the green tones help provide some masculinity to the whole thing. Ricky still 
We've owned our bed for many years so, I didn't have to do anything with that. The main things I want to share are just some of the decor, the bedding and the additional furniture. Which basically consisted of oversized nightstands and a AWESOME January 1, Dillards Sale Hooker Shelving Unit! Everything I have added to our room has either been on sale or from a very affordable retailer. Here are a few beds similar to ours, click on the words to check them out:
Here are some of the other items we currently have
(OR I might be watching) in our bedroom:
LOVE THIS STORAGE MIRROR (Investment piece)

The "insta-famous" CACTUS CANVAS that we have hanging above our bed (Scored on Black Friday Sale)

I've got CACTUS DECOR EVERYWHERE in our bedroom. Many I have found at TJ Maxx, Hobby Lobby, HomeGoods, Etc.

Similar MIRRORED NIGHTSTANDS, mine are from "At Home" I got them with Christmas/Birthday Giftcards. My family knew that was all I wanted.

GREAT PRICE for the size of THIS ONE

I LOVE how tall this NIGHTSTAND is.

THIS ONE is cute! I love how the bottom half  is open for display purposes.

A GOOD ONE if you don't want the "full mirror" look… they do show lots of finger prints, if you have lots of kids… like we do!

VELVET DUVET– almost identical to the one I have!

I think this GRAY ONE is super cute!

This BLUSH ONE is really pretty!

LOVE THIS ONE and it's UNDER $100 AND comes in a few colors too!

My Dad got me two of these LARGE GREEN VASES for my Birthday! One is in my kitchen and the other is here on my nightstand.

I filled the Large Green Vase with little flowers similar to THESE

A large WHITE FUR RUG if what we have under the foot of the bed. (I scored mine at Ross for less than $70)

Want this super cute BLUSH BASKET for our room!

THIS ONE is very similar to the one I have on our bookcase

Love this little 3 pot PLANTER

SO CUTE to hang THESE PLANTERS on the wall and have succulents in them

Have these cute little SUCCULENTS throughout the house, their UNDER $20!

FUR FOOTSTOOL similar to one I have, but more of a splurge.

ALL my throw pillows are from Tuesday Morning, At Home or Home Goods.

Majority of the decor on the black bookcase is from Hobby Lobby, Target and Local Shops.
Hopefully that helps you some. Again, I try to find everything ON SALE or at least a decent price. When I buy something I think to myself, "Can I re-sale this one day for at least 50% of what I paid for it?" If I can, then to me it's worth it. I figure we'll get half the use of it and the next person can have the other half. If you have any questions or comments please leave them in the comment section or on my Instagram page. I LOVE bringing a room together. If I had all the time in the world I would pursue a career in interior decorating… on a budget. Who knows, maybe one day? But not today. 
Enjoy and God Bless.
PS- My room is usually NEVER this clean BUT I have made my bed every single day since January 1, 2018. It was a goal I set for myself this year and so far, I am still going strong. And the amazing vacuum lines you see are all a gift God has given my husband, NOT me.