So I teamed up with my sweet friend and blogger AUDREY MADSTOWE a few weeks ago to show you guys how you could style a white blazer. Audrey is in her 20's, engaged, and currently a dog & cat mom. Needless to say, we are in very different seasons of life and I'm like a decade older. We wanted to team up and show you guys something fun every month and how no matter the age or season, you can still rock whatever item it is we are sharing. This time around, it's a denim skirt!
As we were preparing everything I had told Audrey we needed a cool name for when we do this. When we were out shooting for this "project" we did some photos together and then we both did some individual ones. As Audrey was looking for a background she found a pretty white washed wall and I was like "Oh look that's cute" she assumed I meant that beautiful wall, I was actually pointing at these trucks that looked like a junkyard! HA! That was where we came up with "Grunge & Glam" Audrey has this class, elegant, beautiful, rainbow and butterfly style to her brand. She's the sweetest thing EVER and you can see in her page that she just has the graceful and classy look to her.
And then there's me.
HA.
I'm not sure why, but ever since I started shooting for this little space I have always loved finding the most junky and rundown spots and just making them come to life. It's just my look I guess. So I'm the "grunge" and Audrey is the "glam" and we are both SO great with that!
SO we are excited to build on this series with you guys, we really enjoy doing this and it's a way we get to spend time together! It's kind of hard sometimes to find people that really understand what all goes into this whole journey, so it's so nice to meet up and chat about what each of us is going through behind the screen.
Audrey also just left her full time job to become a full time blogger! I am SO happy and excited for her! She's amazing at what she does and she is beyond wise for her age! Make sure you are following her HERE, if you aren't already!
So with spring and summer well on the way Audrey and I thought a denim skirt was a great statement piece to share with you guys! You really can find them in all price ranges and they're a piece that you will probably just buy one of and know you've got a denim skirt when you need it. It's not really a item I personally will "live" in or anything, but I do think they are so fun to use as transition pieces for the seasons changing.
My favorite way to wear them for spring and summer is with a graphic tee and sneakers (go figure) When it starts to get cold I like to pair them with blazers and big oversized chunky knit sweaters!
Audrey and I will decide on one item and then we never know what the other is wearing until we show up! It's SO fun to see how each others style and personality just comes out! What was crazy too is that my skirt is well over double the price of hers and they looked almost IDENTICAL in person!! Her's is a great affordable find! Mine does come in a few washes too! Both are a great buy!
If there's a certain item you would love to see us style for the next series, comment below or shoot me a message! We want to help and really enjoy doing this! So, thanks for following along! You can see our last GRUNGE & GLAM- WHITE BLAZER HERE!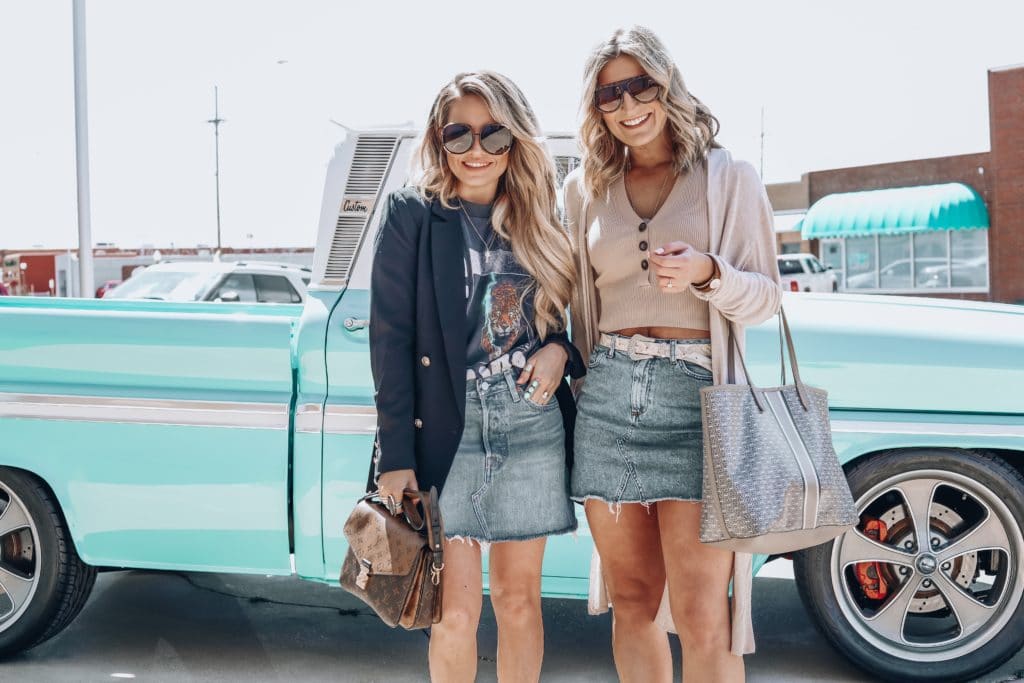 Shop Audrey's Look Here:
Shop Magen's Look Here: