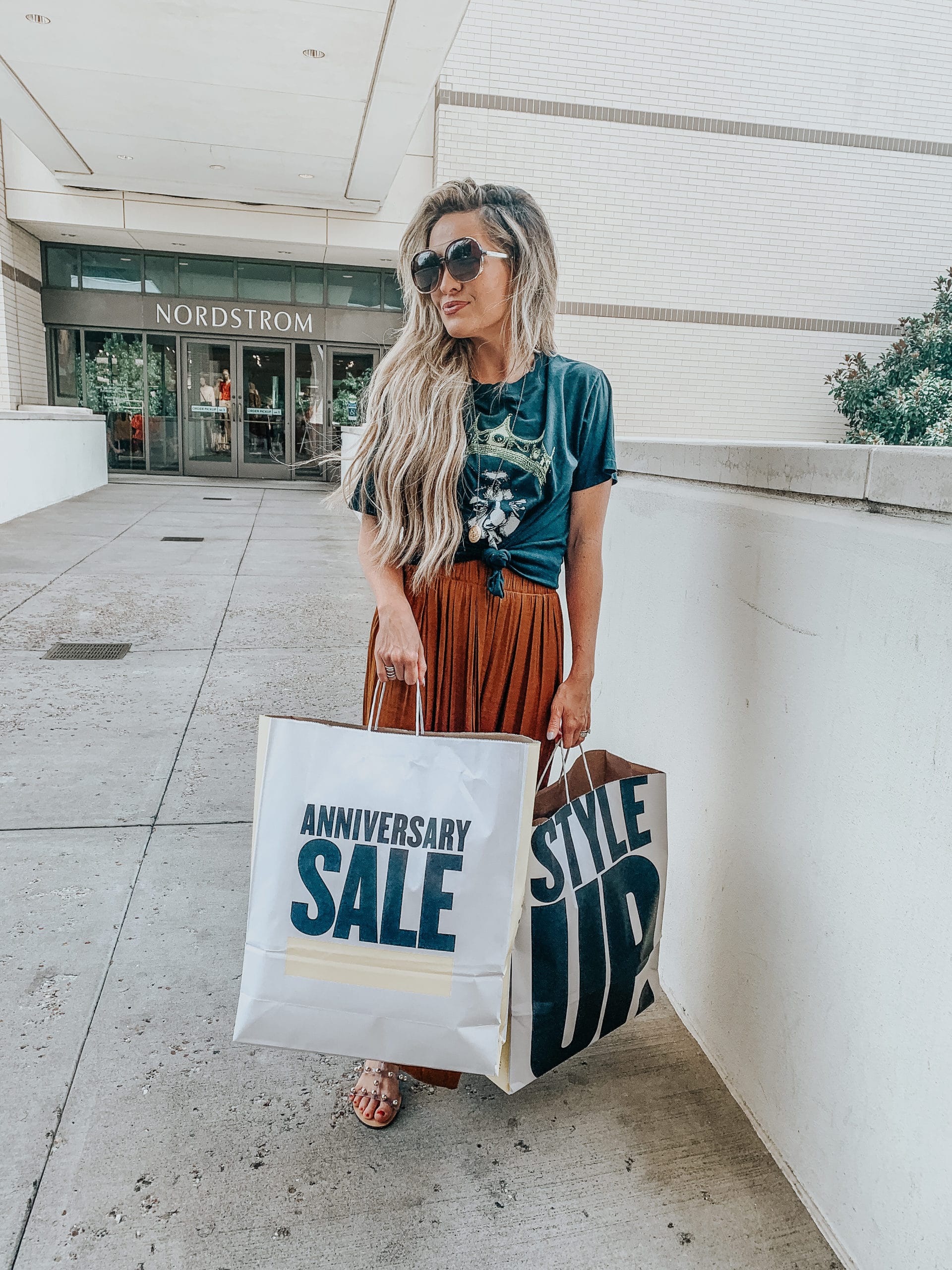 It's about that time!!! One of the BEST sales of the year is almost here! I really look forward to the Nordstrom Anniversary Sale, and it helps to prepare for it ahead of time. What makes this sale different from most sales, is that it includes new arrivals from top brands! If you have been wanting a pair of designer boots or a bag, this is the time to find one at a great price. A lot of the items will go on to be best sellers for the year! It's the perfect time for back to school shopping, fall/winter prep, and finding great gift options. This year the Anniversary Sale will be from August 19–30.
NEW THIS YEAR! Everyone gets to preview all sale items even earlier—starting July 24. This way, you have plenty of time to save your favorites to your Wish List so you can check out faster when it's time to shop. This preview experience will replace the print catalog this year.
Like previous years, cardmembers get early access to the sale. I want to make sure to say it again this year, I do not encourage credit cards of any kind if you know you will be tempted to make purchases outside your budget. If it is not a good idea for you, just wait for public access! You will be able to shop plenty of great items at that point as well. I got the card four years ago to shop the sale early.  The card does have perks, like you earn 2 points for every $1 you spend. The benefits increase when reach different levels. With blogging, it has been great for me! I make sure to use my monthly blogging budget when shopping with my card. You also get a $60 BONUS NORDY NOTE when you apply for the card, now until August 18th. Cardmembers, can use a Personal Double Points Day to earn 2X the points on any day you choose.
I will be covering the sale again this year! Make sure to be watching on my Instagram as I share my favorites from the sale, try-ons, and all the amazing deals. I will be heading to Nordstrom in Austin to show you all the best finds and to do lots of try-ons. Let me know if there is anything specific you want to see this year!

HELPFUL TIPS AND TRICKS FOR A SUCCESSFUL SHOPPING EXPERIENCE:
IF YOU CAN GET THE CARD AND NOT GET IN ANY FINANCIAL TROUBLE DOING SO, DO IT. STRICTLY SO YOU CAN SHOP THE SALE EARLY!

DECIDE BEFOREHAND WHAT YOU ARE LOOKING FOR! FOR ME PERSONALLY, I AM ALWAYS LOOKING AT THE SHOES FIRST!

SHOES, HANDBAGS, DESIGNER BRANDS, AND BEAUTY DEALS ARE USUALLY SOME OF THE FIRST THINGS TO SELL OUT! SO GRAB THOSE FIRST!

FREE SHIPPING + FREE RETURNS! THIS IS ONE OF THE TOP REASONS I LOVE NORDSTROM! SO PLACE AS MANY ORDERS AS YOUR HEART DESIRES, DON'T TAKE YOUR TIME ADDING MULTIPLE THINGS TO YOUR CART, I PROMISE THINGS WILL SELL OUT IN MINUTES! ADD TO CART AND CHECK OUT ASAP!

WORRIED ABOUT SIZING? ORDER BOTH SIZES AND SHIP BACK WHICHEVER DOESN'T WORK!

SHOP ONLINE! THE SALE IS WAY BETTER ONLINE! PLUS YOU AVOID CHAOS! PLUS YOU CAN DO CURBSIDE PICKUP!

MAKE SURE YOU ARE FOLLOWING ME ON INSTAGRAM TO BE UPDATED ON ITEMS I AM BUYING!
**Friendly reminder, I do make a small commission for every sale that is purchased through my links. I am not trying to hide that. There is hundreds of hours that go into covering sales like this and honestly, my blog has become a way I can help to provide for my family. SO when I say "I APPRECIATE YOU" I mean it! I am truly SO grateful for every little purchase made through a link I share! It means more than you will ever know! Thank you for helping to keep this little dream of mine alive!
NSALE 2020…WE ARE READY!