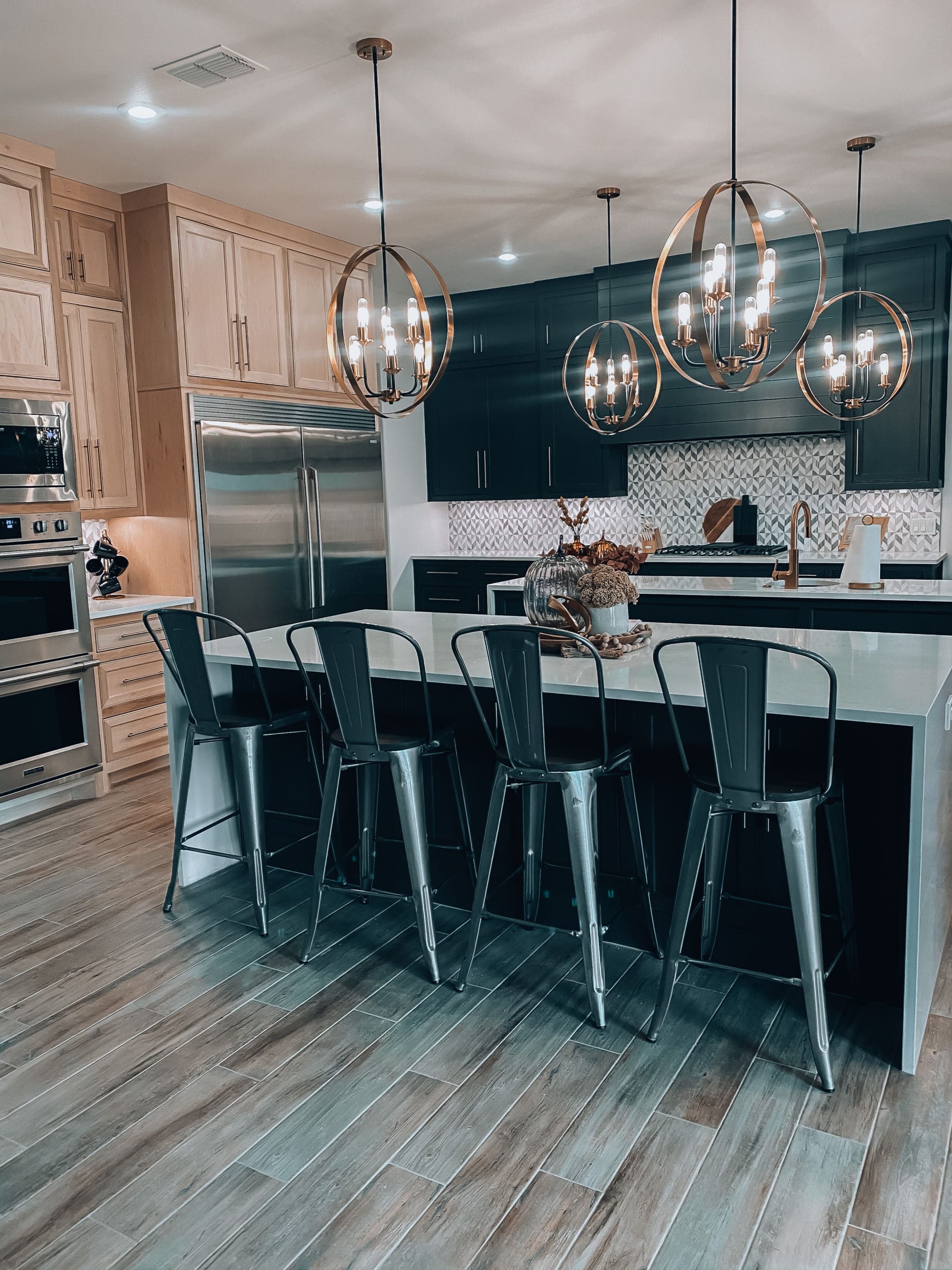 Hi friends! I have been working to find links for all that I can and round up all the names for paint colors. If I missed something, feel free to message me. There is a possibility I may not be able to find a link, but I can absolutely let you know!
I had so much fun with the kitchen! This was an area I did change from the original plan. With a family of six, I felt two kitchen islands was ideal. We have a prep island and a seating island. The seating island allows for seating on both sides! So much room for the holidays!
For the cabinets, I chose for one wall to have the lighter cabinets. They made a specific stain to achieve this color. It has a beautiful natural wood look. The rest is a dark grey, which gives it an edgy feel. The wall with the kitchen sink, we mixed the two. Our friend, Casey, at Casey Carpet One Floor & Home, did the backsplash and flooring, and the backsplash is one of my favorite features in the kitchen. I had them change out the vent hood as well, I wanted a sleek and flat look.
I made sure to link up all the kitchen accessories and decor pieces below! I will still be adding some and will share it all on Instagram. I am still making decisions on the kitchen nook area, but I have chosen a black round marble table.
I cannot recommend our dishwasher enough! They are Frigidaire and very affordable. We did have them put two dishwashers in, because we always have one running around our house. We did a white farmhouse sink and gold hardware! Our large double fridge is Electrolux, and the storage is so good. I definitely recommend it.
I have lots of posts coming as I finish and reveal each room, so be on the look out. I am saving each room on my Instagram highlights, so you can hop over there to see those as well.
You all have been so supportive and kind about our move into the new house, and I really appreciate it! We are thrilled to be in this new season.
*CLICK IMAGES TO SHOP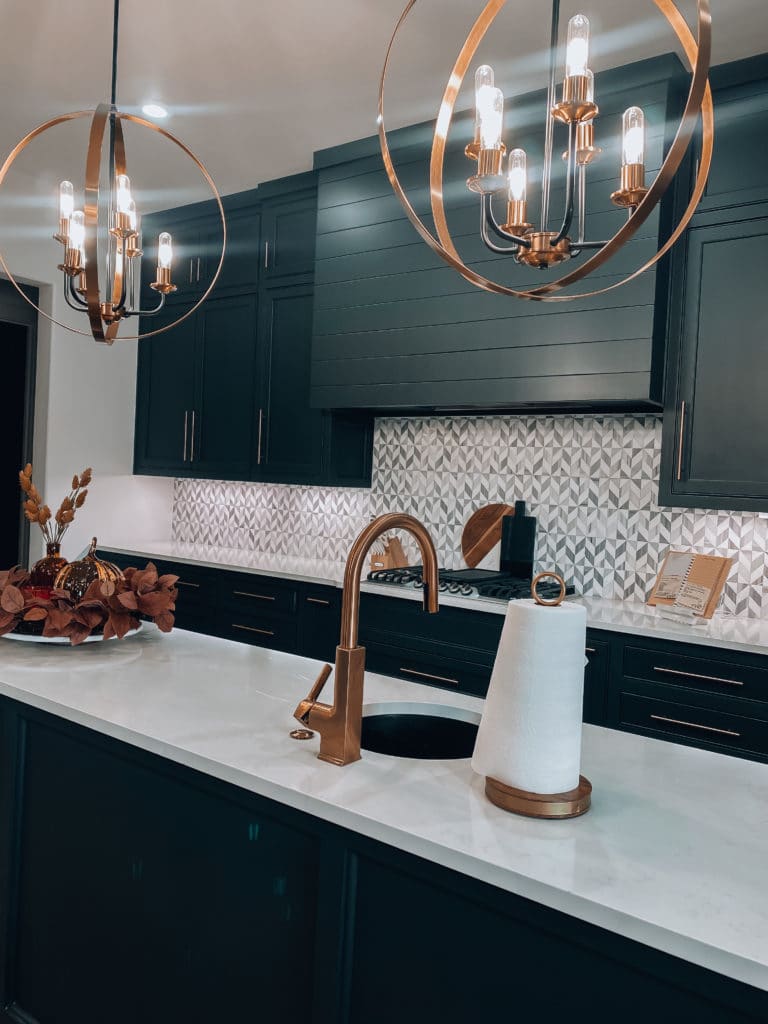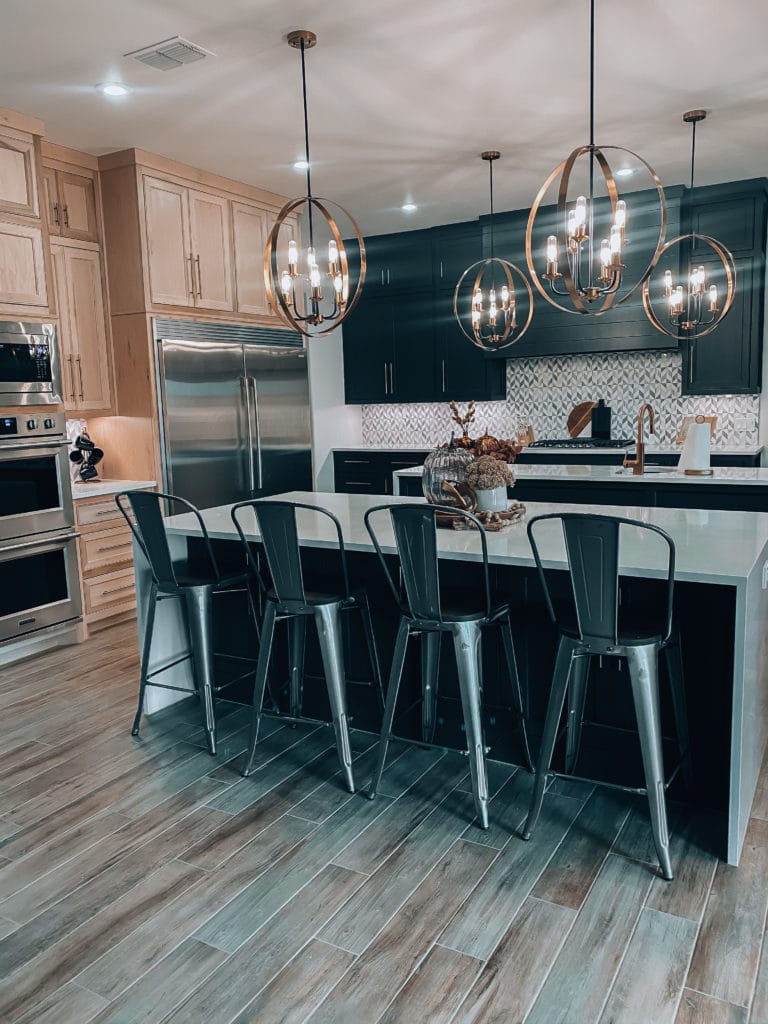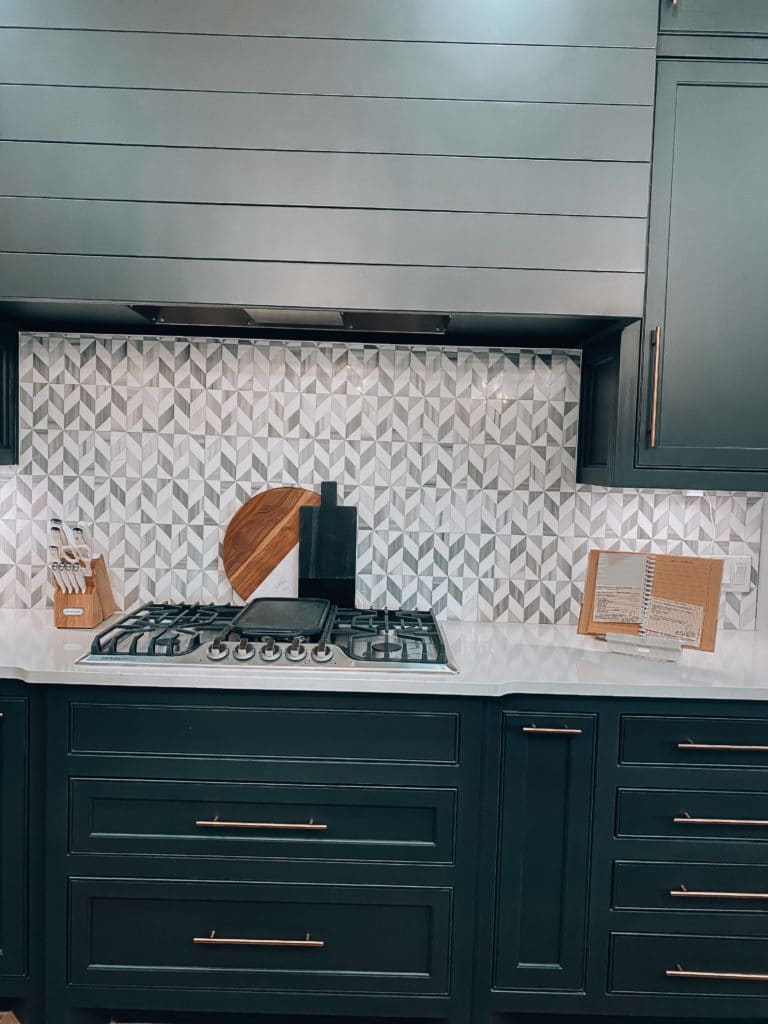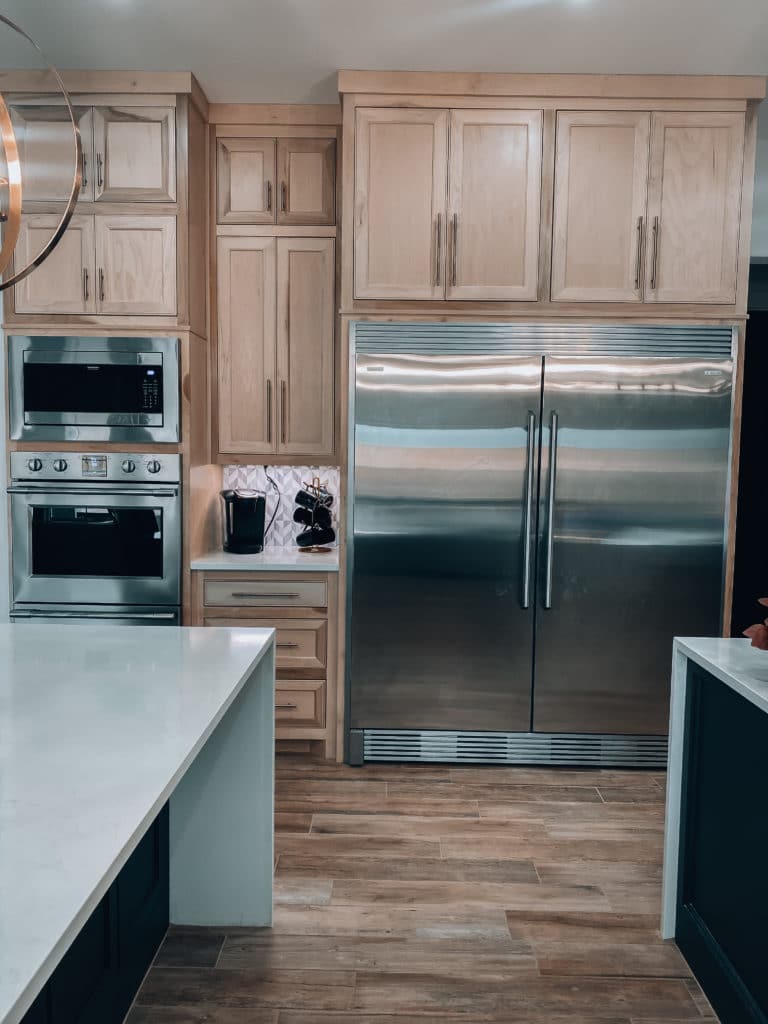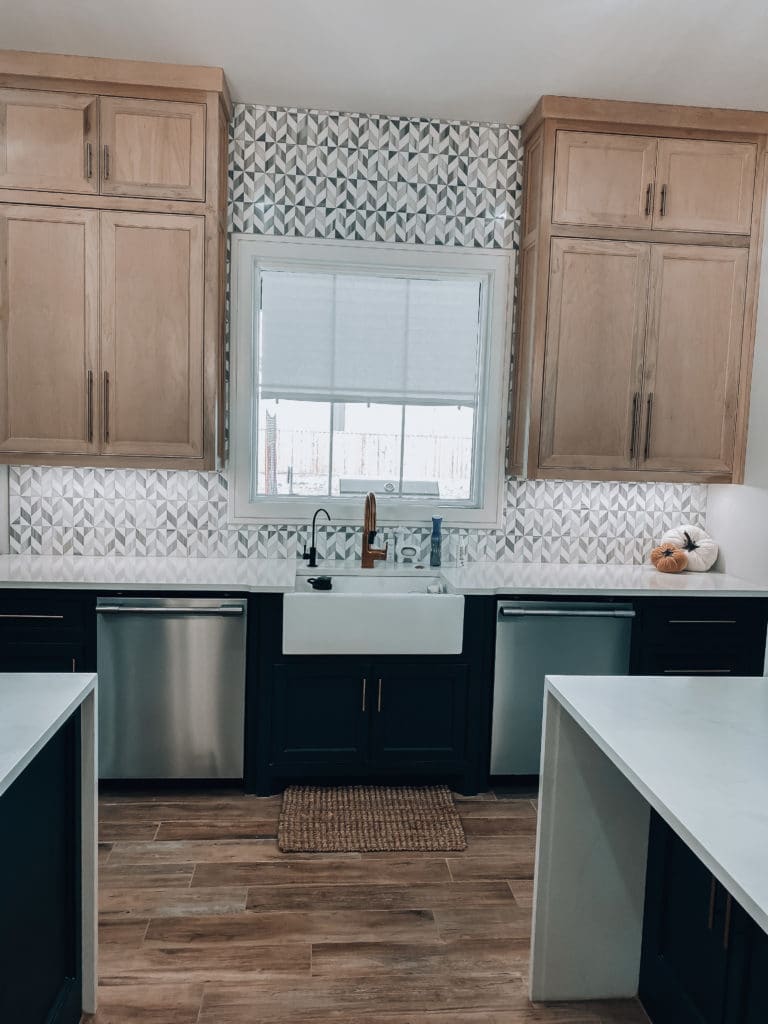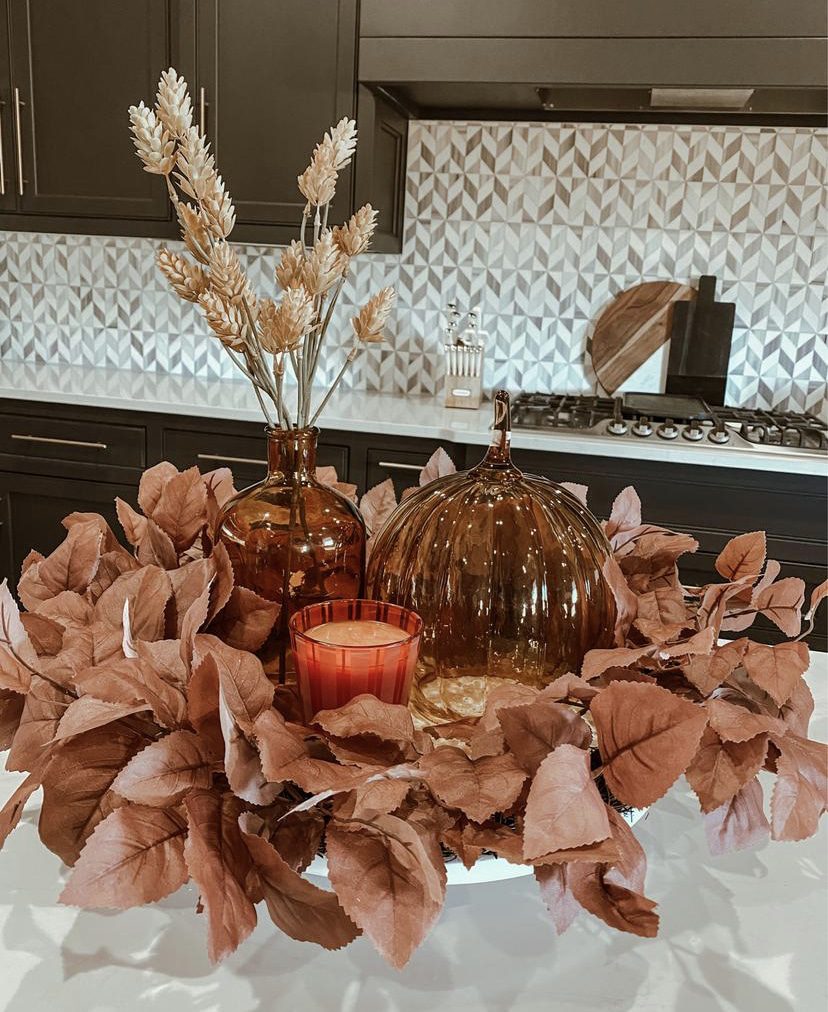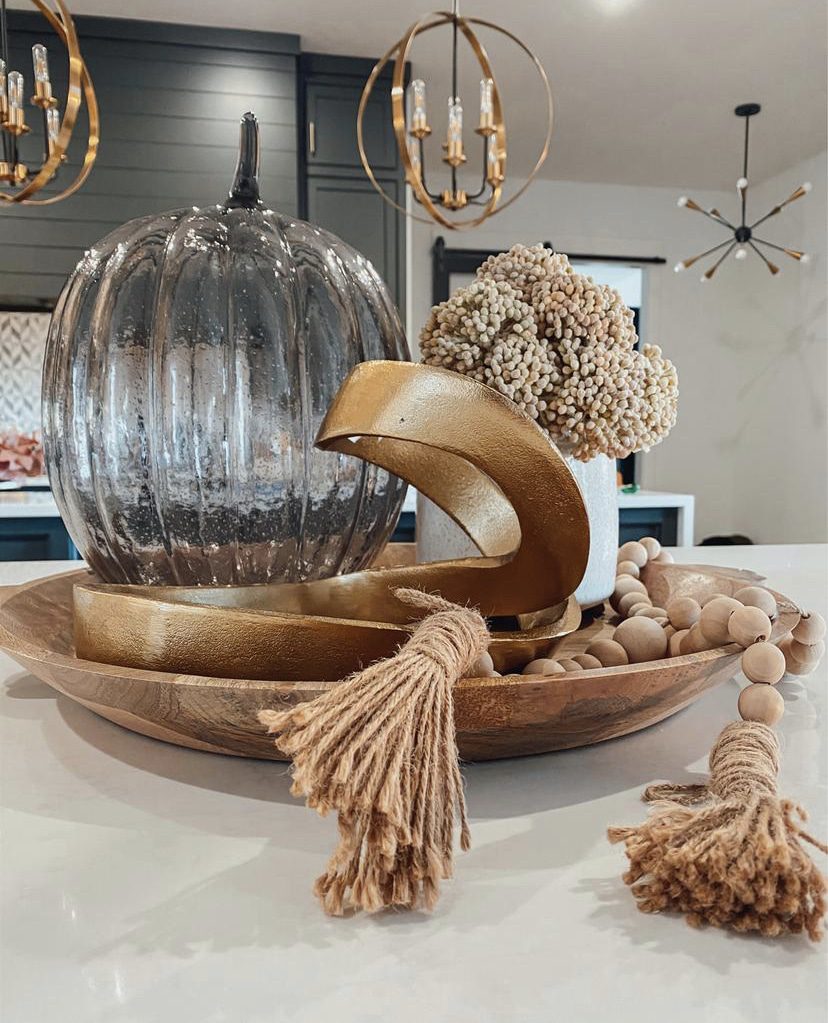 FAQ:
What is the kitchen floor?
It is a wood tile, done by Casey Carpet One Floor & Home. Ember wood is a similar color, linked HERE.
Where is the backsplash from?
What color are the darker cabinets?
Iron Ore by Sherwin Williams
What color are the lighter cabinets?
The cabinets were already in, so they had to make a stain for us to match what I wanted. An easier way to get the look is by going with white oak.
What color are the walls?
White Snow by Sherwin Williams
What barstools did you choose? The ones there now are not staying.
SPLURGE
SAVE
Barstools on other side of the island (fit underneath overhang)
What kitchen table did you choose for the nook?
*I will post pictures and links for everything in the nook once finished.
Where can I get the kitchen lights?
Where did you get the gold faucet from?
Where did you get the kitchen sink?
Can you link the dishwasher?
Can you link your refrigerator?
I could not find ours linked from where we got it, linked similar HERE. It is a big splurge.
*You can find links to all fall decor and kitchen accessories by clicking on the above photos.