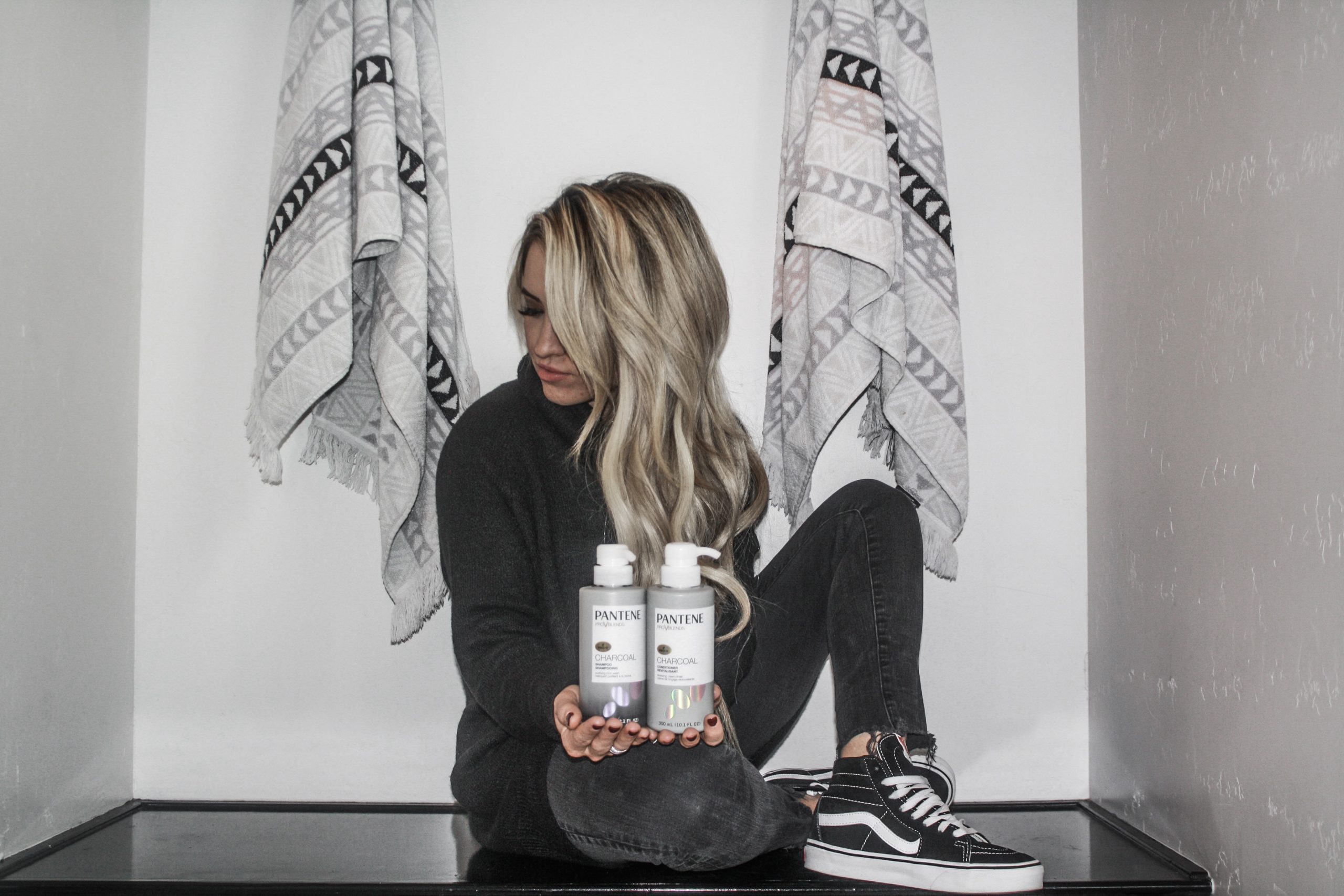 Charcoal has been all the rage now for the past few years. The benefits being found from using it are incredible. So, I was so excited to see they have now found a way to incorporate it into our hair care regimen.
If you guys follow me on Instagram you have heard me talk about how I wash my hair 1-2x a week, at the most. So, when I do wash it I want to make sure the product I use, WORKS! One of the benefits of using the Pantene Charcoal Collection is that the activated charcoal is working to break up all the build up from products and just life in between each wash, so when you do wash, you rid the buildup. Which was such a great realization for me! I definitely want to make sure the products I am using keep my hair clean and refreshed in between washes. 
Pantene Charcoal Collection's Shampoo
A purifying, nutrient-infused shampoo with a Pro-V blend of activated Charcoal, pro-vitamin B5 and antioxidants. Free of silicone, parabens and dyes, the activated charcoal cleanses hair and the scalp to help remove dirt and impurities. For those women with an oily scalp, this product helps to reset the balance leaving the hair refreshed.
Pantene Charcoal Collection's Conditioner
This is Pantene's first ever silicone-free conditioner that rinses out quickly leaving the ultimate clean-feel for renewed fullness and shine. The nutrient-rich, lightweight conditioner is free of parabens and dyes and contains pro-vitamin B5, white charcoal and antioxidants. Use the product after the Shampoo.
The activated charcoal blend (includes a blend of pro-vitamin B5, activated charcoal & antioxidants) works to detox hair by attracting impurities, while releasing antioxidants. This combination leaves your hair feeling refreshed and clean, with renewed body and shine.
Since I only wash my hair 1-2x a week I have currently used the product twice now and I have loved how soft and shiny it has left my hair after each wash.
Thank you Pantene for sponsoring this post, as always the opinions are my own.