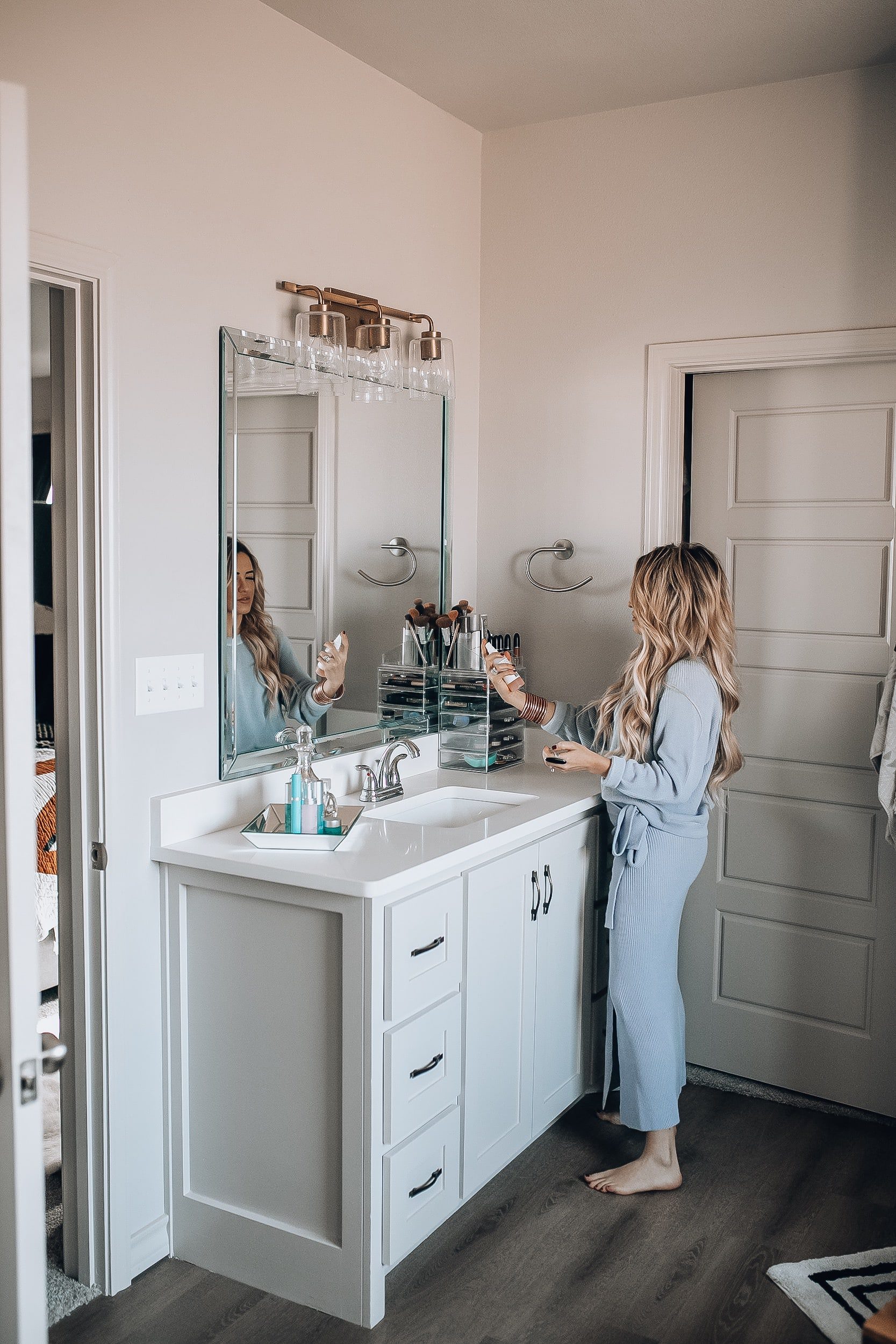 LONG overdue! I have had so many request for this blog post! Skincare is not something I take lightly, I didn't want to just throw something up without being able to back it or really share my experience and opinion with it all. Majority of what I am going to share I started using back in November/December, so I have been on this regimen now for 2-3 months. I felt like that was enough time to form a opinion and share what I am using and loving!
My hormones have been EVERYWHERE for the past 3-4yrs. I believe majority of the breakouts I experience are internal, not topical issues. My testosterone has gone from a 25 to a 325. The only place I really tend to have bad breakouts is my chin. From the research I have done and from what I have been told this is usually a sign up hormone issues. SO I am chalking getting hit with the "zit stick" these past few years to that. I've honestly taken it all pretty hard. Growing up I always had great skin. I was even looking back at photos to when my kids were younger and my skin looked great, I spent most days without any makeup and felt confident in that. Now, not so much. Because of the amount of blemishes I have had and the insane amount of "picking" I have done (I know it's the worst thing I can do, no need to tell me) I now am not only insecure about the blemishes, but also the scarring. At this point I do not feel confident at all leaving the house without some kind of coverage on my skin. I hate it! I am working harder than ever to get my great skin back! So I'm going to share all I am doing and what is working for me currently….
I will start by saying I do get botox 1-2x a year. I typically just do my forehead and my "11" So that is why I don't have many wrinkles there. I previously have had the under area of my eyes filled and I LOVED it! Really want to do that again! I also have had the lines around my mouth done, but that's been almost 2yrs ago. Just want to be transparent with that, I do get wrinkles, I do have wrinkles, I just shoot them up and I ain't mad about it. I'm all for preventive treatment and anything that might slow down the process…. I mean isn't that why we are spending crazy amounts of money on creams? Just my opinion. Do you boo 🙂
I also want to make sure and share that this past December I began drinking celery juice every morning and truly feel like that is just now starting to show some results! So, if you've been testing it out, stick with it!!! You can read my whole blog post on celery juice and the benefits HERE!
So I will start with my night-time routine first because that's been my biggest focus lately-
Here are my two favorite mask right now-
Exfoliating Treatment Mask– this was one of the first mask I ever used! Ricky and I both love this one! It's a great mask that I love to use about 2-4x a month! Your skin is SO soft afterward and it just feels SO good!

Aztec Secret Indian Healing Clay– So I just started using this and I am OBSESSED!!! I have only put it on my blemishes so far and it has made a world of difference! The next day my blemishes had decreased drastically in size and the redness was almost gone! Y'all! SOLD! And the price point is LEGIT, this jar will last me forever!! We mixed it straight with APPLE CIDER VINEGAR and then applied it with these BRUSHES.
Morning Routine-
I keep the morning super simple! The fact I even have a morning and night routine is huge for me. I use to be the girl that washed my face with a Dove Bar of Soap! That's one thing I would tell my 20yr old self…"Girl Wash Yo Face.. and buy all the creams"
As for all of the TULA PRODUCTS you can use the code "MAGEN" for a discount on the whole site! I would recommend getting one of the STARTER KITS first to make sure you like it! There's a few options and they're all around $50! I actually keep one on hand for traveling, it's the perfect travel size kit! Feel free to message me any questions, I will do my absolute best to help!
I also just ordered this SERUM, I've heard it's like botox in a bottle. The reviews are all SO good! It's higher end, but at this point I am ok with investing in my skin. I will let ya know what I think about it once I start using it!
I hope this helps, again it's a whole new world for me. A lot of trial and error and that would be the biggest advice I could give, TRY NEW THINGS! You'll never know what works for you and what doesn't if you don't try it! I have also learned that I may like a cleanser from one brand and a toner from another. It's ok to mix brands, in my opinion. Just find what works for you! And do that!
**I am gifted Tula products, but all opinions are my own and I was not compensated to share this post 🙂