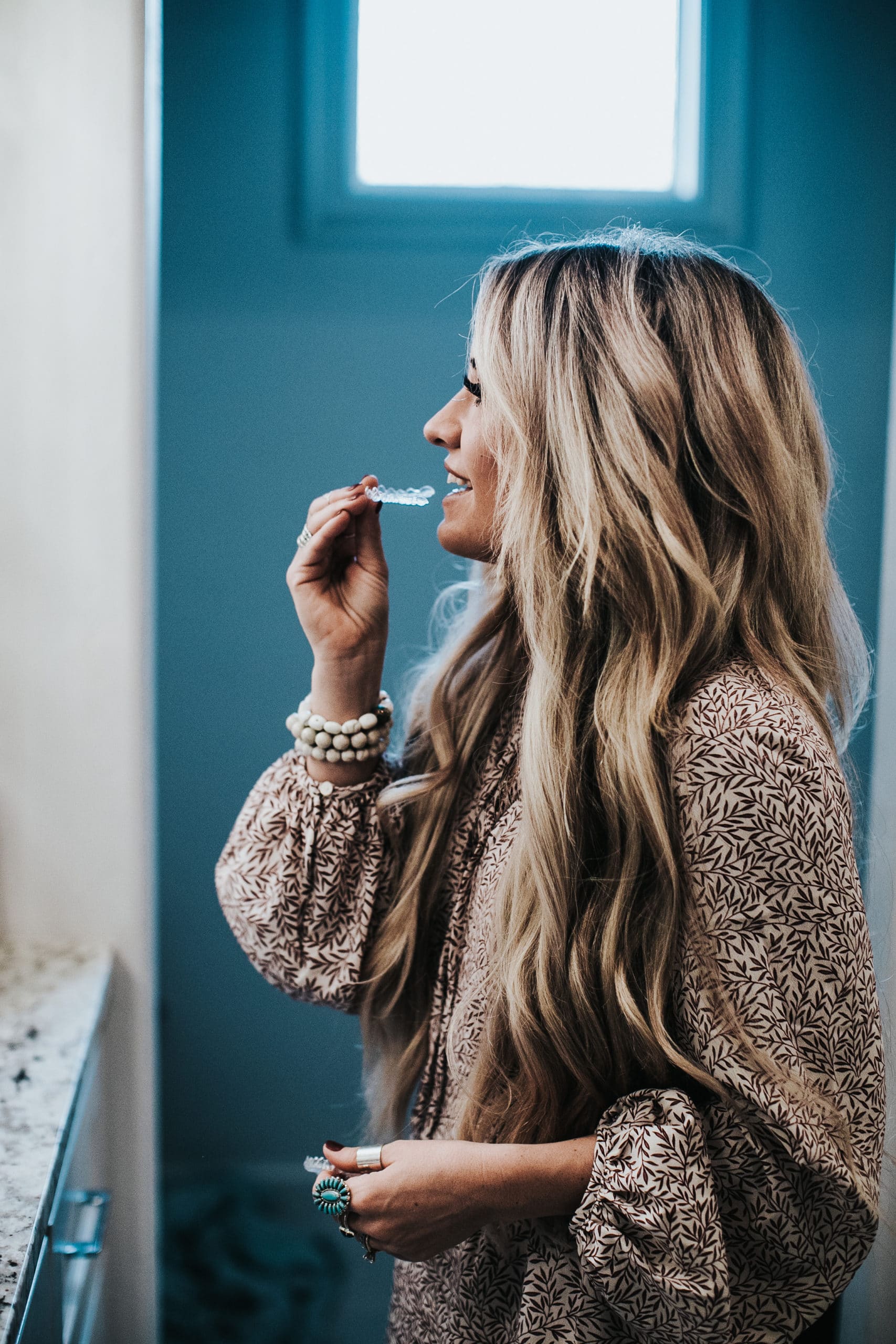 A few months ago I was on my Insta-Story ranting… promise that's not a habit.
I was struggling with my tooth. Yep, just this one single tooth.
When I was in the 8th grade I wore braces. I had them on for a few years. I actually LOVED having them too! I have smaller teeth, so I loved that they made my teeth feel bigger… event though they weren't. I'm honestly not too sure why I loved them so much, but I did. The day I had to get them off I cried.
I took him my retainers and haven't seen them since. So, since high school I have just gone about life not wearing any type of retainers. Over the past years, that front tooth, has just slowly shifted and shifted and shifted. Within the past few years I have vented SO much to Ricky about how frustrated I was by this one tooth. The way it had shifted, gave the illusion in numerous photos, that I was missing a tooth. The dark shadows and tilt of the tooth made it look like I was missing one of my front teeth.
I started noticing the toll it was taking on my self confidence. In a lot of my photos I honestly had quit smiling with my mouth open because I was so worried it would look like I had a black hole for a tooth.
Stepping into the "blogging" industry, I became even more paranoid about this. I had numerous consults and was really told my best option would be veneers, due to how small my teeth were. Something about that though just never settled well with me. Maybe it was the thousands of dollars, the fear of shaving my real teeth down, or just the fact I really do like my teeth… just that one… I'm honestly not sure. I just never could pull the trigger.
SO, in my frustration one day, I vented on my IG stories. I had just done a really cute photo shoot, but disliked so many of the images because of that one stinking tooth. A sweet friend and follower messaged me and suggested I come in for a consult at St. Clair & Massey Orthodontics. So, I set up a FREE CONSULT (they do this for everyone) and went in.
One of the first things I noticed was the worship music playing, this is something I kind of look for when I go into any business. If they're playing music, what is it? I know it's silly to some, but it's something I look for.
I was taken back with a sweet nurse and had different photos taken of the inside of my mouth. Everyone was so kind. After the photos I was escorted to a office where I watched a video online explaining the differences between Invisalign and braces. It was actually very interesting to understand more of the details and benefits of the two.
When the video had ended I met with Dr. James St. Clair and he explained all of my options and described what he personally thought was best for me. After consulting with him and describing my personal insecurities he suggested Invisalign would be the best and quickest route for me. He also gave me options no one else had ever given me. With my teeth being smaller I have always had the desire to make them bigger, one reason veneers was always suggested. Dr. St. Clair suggested the option of actually just building onto my real tooth. I was so relieved to know there might be another route that didn't require taking away from my real teeth!
And that is how the journey began.
I have LOVED working with the whole team at St. Clair & Massey Orthodontics this is the first of many post you will be hearing about them. I have no had my Invisalign for almost 10 weeks and can't wait to update you on what I have seen so far and how amazing the whole experience has been.
St. Clair & Massey Orthodontics have a location here in Lubbock, TX and they are also located in Clovis and Hobbs, NM. Call today to schedule your free consultation. Because my experience has been so wonderful I took Preslee (my oldest child) in for a consult shortly after mine. She has a few years before she needs anything, but St. Clair & Massey Orthodontics will be who we use when she is ready.
Schedule your appointment today online CLICK HERE or call 1-800-759-6780
Thank you St. Clair & Massey Orthodontics for sponsoring this post. As always, all opinions are of my own.