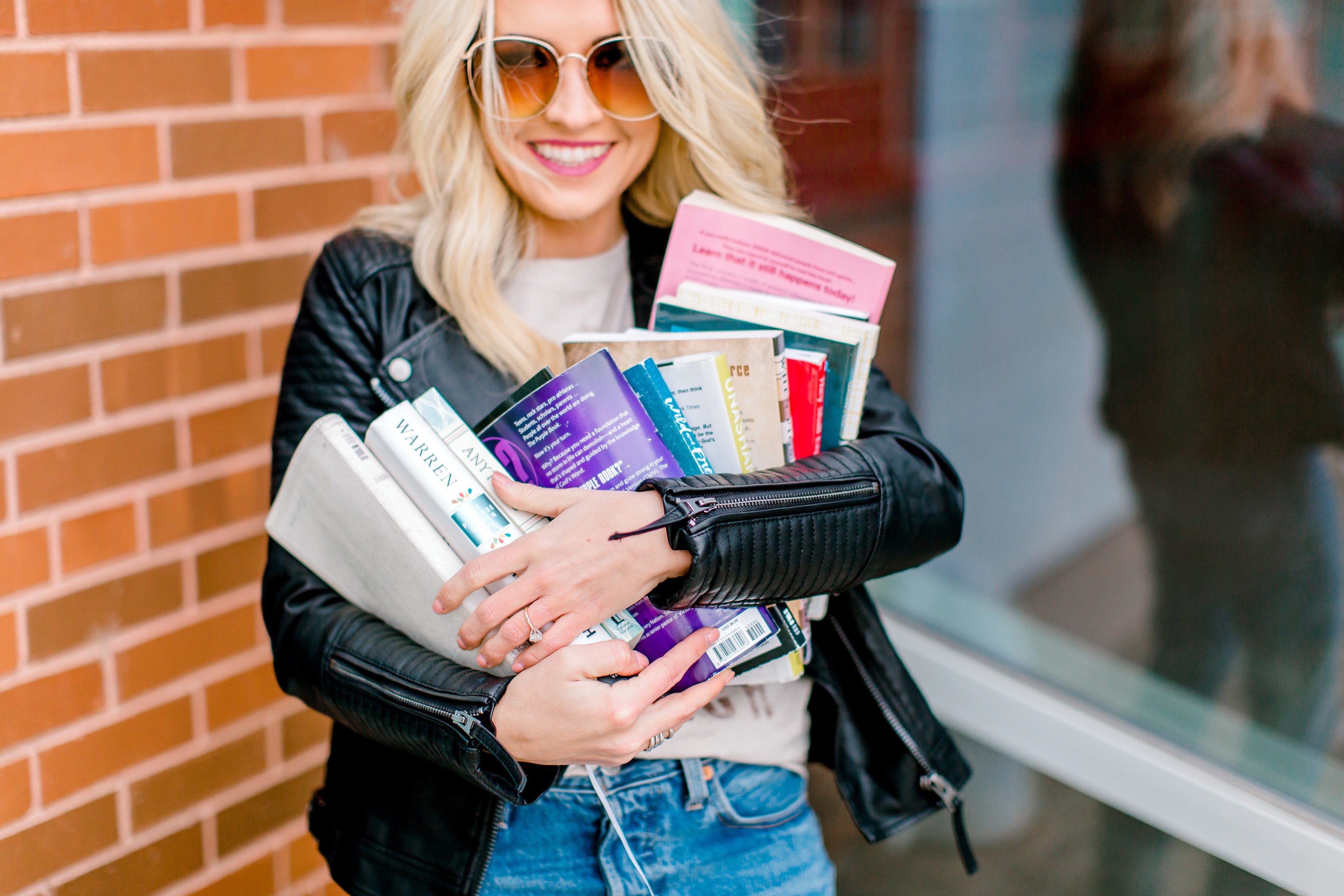 I remember seeing this AMAZING quote on Instagram one day in my scrolling. I then did what any fan girl would do, I reposted it.
Years later this profound quote rings true in my ears.
I have gotten more messages over the past few years on books. People wanting to know what's good, what I am reading, what I would recommend for certain situations, etc. I am kind of a book nerd so, I am sure that's why someone would ask. Before having kids I could read a good book in hours! I get sucked in! Now a days, with four young children, I have a short amount of time in spurts. But the same stands, if it's good, I finish it. Usually quickly too.
Growing up I always loved reading! I didn't have a relationship with Jesus so, unfortunately my reading didn't consist of the Bible, or really any other "Christian Faith Books" at that time. They more so looked like the "Twilight Series"… Y'all I read them all in THREE-FOUR DAYS! Ridiculous!
Since finding Jesus and becoming a Bible Study Leader, Wife, Mother, Entrepreneur, Fitness and Food Enthusiast, and so many other things, I don't really read things that don't help me to grow and become more. With four kids, it just feels like a waste of time right now. If I am going to invest in a good read I really want it to be something that could help to make a difference in my life, for the better. So I visit MANY books! I read a couple a year, hoping to up that this year! I spend way too much time scrolling through social media and doing things that add NO value to my life. When I could be using that time to read a great book about raising boys…. which is something I REALLY need help in right now!
In all of these books though and seasons of life I think it is SO important to remember to go to the Bible FIRST and to stay there always! ANYTHING I need guidances and comfort with I can find in scripture. I mean that's one of the reasons we have the Bible to help us look more like Jesus! Which in raising my boys for example, I want to do it like Jesus! I want to love them unconditionally, I want the 10 commandments to be embedded in their hearts, I want them to understand honor, obedience, authority, etc. My point being we can find all we need in scripture. SO always, GO THERE FIRST!
I do believe all we go through though can and should be used for His glory! So, praise God for men and women who have experienced things and then shared on them through the gift of writing books. I mean take the many women that have experienced sexual and physical abuse, praise God they spoke out on a issue that would help to bring other women freedom and a voice. Or the absolute tragedy of infant loss, praise God those women spoke out and helped keep other women from isolating. Or the men that have been set free from drug, porn, and alcohol addictions and have spoken out to set other men free. I mean books are a GREAT thing! They are a amazing resource. The "old soul" in me LOVES the feel of flipping the pages and smelling the new print, it's almost as good as leather!
It's also SO important to go to Gods word first because if you do not know what Gods word says first you could buy into a lie or opinion of someone that may not be in alignment in the truth you should believe. I have read numerous books where scripture was used out of context or twisted in some way to benefit the authors point. You don't know when those things are happening though if you don't live in Gods word. Now, don't get me wrong… I am NO master of this! I am sure along the way I fell fault to this but, it's something I have felt very convicted of this year.
So, I am making it a point to stay in Gods word FIRST & FOREMOST! Then, I will visit good books that are in alignment with it and come along side it. I wanted to share some of the books with you that have had a MAJOR impact on my life since giving my life to Jesus in 2012. Some are comforting and encouraging and others are hard and are going to challenge you. Pick your meat. There all books I have set down after reading and known it wasn't a waste of time. Some are Spiritual Warfare books, which I am a HUGE advocate for! I believe in it 100%! I'll add notes beside each one and what it has done for me and then I have some on my "to-read list" I'll share as well. I LOVE going to Mardels and stocking up on books, it's like a candy shop for me!
That's all I've got for now but, I am sure I will think of more! Here's a few I am reading now or want to read this year!
So there's my round up! And I know once I post this, I will have like 20 other books come to mind! So, I'll update you guys as I update this post!
If there's a book that has radically made a difference in your life, comment below or on my Instagram page! I want to hear about it! If one of the books I listed has helped you through a season, please share! I am always on the hunt for a good book!
Thanks for stopping by!
Now turn this screen off and go grab a good ol fashion BOOK!